Algok-seongjeon's Annex Buildings
Algok-seongjeon's annex buildings include worship rooms, practice rooms for choir, youth chorus, and orchestra, and meeting rooms. The facilities include Holy Eden Church's executive office, administrative office, restaurants, residences, and other amenities for followers.

Annex One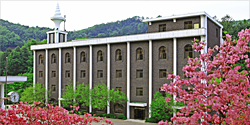 The building's front is similar to that of Algok-seongjeon with the incense burner, cross surrounded by seven angels and two doves with olive tree branches. The worship room is located on the 4th floor, with offices and a cafeteria below.
Annex Two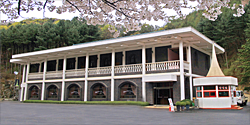 Annex Two is a two-story building next to Annex One and houses the executive office, the administrative office, workers' meeting rooms, and a lounge.
Annex Three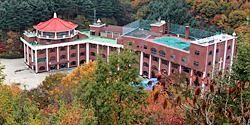 Annex Three houses the theological seminary, followers' residences, snack bar, Chinese Restaurant, Continental Restaurant, a banquet hall, an auditorium, and other amenities.