Family Park
Algok-seongjeon takes advantage of Sangcheon's fresh air and clean water with its multiple park areas within. The mountain trail connected to Hotel White Stone, the Dream Garden (amusement park) for kids, and the waterfall café offer local residents a place to spend time with their families.

The Castle of Dream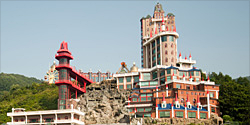 The Castle of Dream built on a rocky slope displays magnificent exterior and reminds of a European castle. The seven floors below the amusement park has meeting rooms, conference rooms, steakhouse, and a Korean restaurant for conferences and banquets. The part that can be seen from the amusement park has offices and a coffee shop.
The Garden of Dream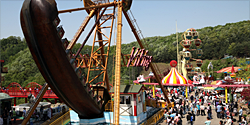 The Garden of Dream has a Viking ride, bicycles in heaven, a merry-go-round and many other rides, which are usually used by believers/members' children, but many local residents visit on special holidays, such as the Children's Day. Its various different rides allow families to enjoy their time with their children.
M Park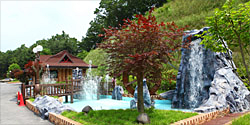 M Park located next to the Huindol-seongjeon is a park on top of a mountain, and beautiful scenery can be observed from up here. The park is located in the middle of the mountain trail to Algok-seongjeon, so it is the perfect place to stop and rest.
Unification Security Exhibition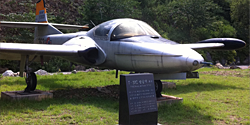 Unification Security Exhibition is for kids visiting the amusement park and serves as an outdoors educational venue with military tank, combat planes, armored cars, cannons, and weapons. The dinosaur figures have also attracted many children.
Mountain Trail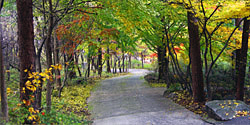 There are two mountain trails in Algok-seongjeon vicinity. The first trail goes up from Algok-seongjeon and extends counter-clockwise to the Huindol-seongjeon. The second trail starts from Algok-seongjeon and extends clockwise to Hotel White Stone's gym on the 12th floor. Walks on these trails offer beautiful view and fresh air for thirty minutes to an hour and a half.
Algok-seongjeon's Waterfall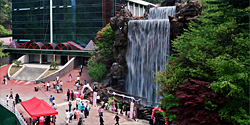 The waterfall uses the valley next to Algok-seongjeon with a two-story coffee shop underneath. The water falls from the top of the building, allowing users to enjoy a cave-like experience in the summer.
E-sung Road(Road to Holy Eden Church)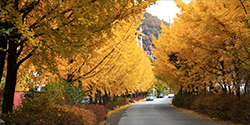 From Eden Agricultural Products Center to Algok-seongjeon, E-sung Road is a two lane street with cherry blossom trees along the road and is famous for its beauty. Every April, a week or two after Seoul's cherry trees blossom, families and friends make memories on this road.