Founder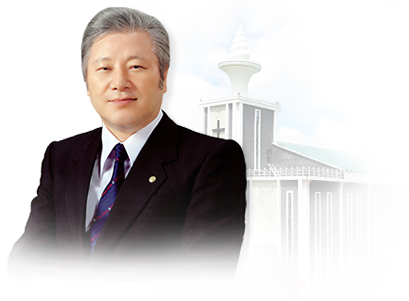 These are the two
who are anointed to serve
the Lord of all the earth.
(Zechariah 4:14)
Lee Young-soo is the Overcomer prophesied in the Bible.He was born in Seoul in 1942. In 1951, Jesus anointed him as the Olive Tree, and in 1958, he began to take part in God's work, when he started attending Jeondogwan, the evangelical church built by the First Olive Tree.
In 1958, when Lee was saddened by his father's passing away and thought, "Now I have become a fatherless child," he heard a voice from the sky. "Where are you looking for your father? Your father is in Heaven." Again in 1962, while in the preacher training program, God said "From now on, when you look for me, do not call me God, but call me Father." (Revelation 21:6-7) From 1962 to 1968, he was a preacher for Jeondogwan.
(21:6) And he said unto me, It is done. I am Alpha and Omega,
the beginning and the end. I will give unto him that is athirst
of the fountain of the water of life freely.
(21:7) He that overcometh shall inherit all things; and I will be his
God, and he shall be my son.
In 1970, Lee traveled with Jesus to God's world and had his first audience with Jehovah, who gave him his mission as the Second Olive Tree. Following the audience, he was taught God's providence through numerous visions over the course of three years. In 1971, a Devil tried to test him, and he was also dragged to Hades, where he met Satan.
God commanded Lee to complete the number of God's soldiers, so he established Holy Eden Church in 1973 and started carrying out God's work. In order to let God's work be known to the world, he built Algok-seongjeon in accordance with God's commands in Cheongpyeong-myun, Gapyeong-gun, Gyeonggi-do in 1987. He is currently still working in accordance with God and Jesus' commands to complete his mission as the Overcomer and the Olive Tree.