Olive Tree
In the Old Testament, God prophesied about the Olive Trees through Zechariah as "the two who are anointed to serve the Lord of all the earth" (Zechariah 4:14), and in the New Testament, John the Apostle's Revelation prophesied as "my (Jesus') two witnesses" (Revelation 11:3). Jesus came to realize the Olive Tree's role after he received God's book (Revelation 5:7), so he prophesied that he would establish the two Olive Trees as his witnesses through John the Apostle.
The Overcomer is the one that received the mission to complete the "New Jerusalem" from Jesus (Revelation 3:12) and was promised "authority over the nations" (Revelation 2:26) and the power to "the right to sit with me on my throne" (Revelation 3:21). After Jesus learned about the Olive Tree, he required the appearance of the Overcomer to use him as the Olive Tree.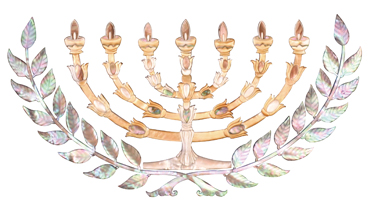 The Olive Tree is planned as the one who would serve the Lord of all the earth, so when the Olive Tree comes to be, God communicates with him to carries out His work. The Olive Tree also acts as Jesus' witness. Since the Twelve Disciples have attested Jesus as God's son and the savior from sin, the Olive Tree is to witness what follows. God has been working for a long time to build the soldiers of Heaven, and Jesus is empowering the Olive Tree to complete His work with his blood.
The Olive Tree is also preordained to have the power to turn water into blood. (Revelation 11:6) The blood is Jesus' blood. The Olive Tree's job is to wash away the followers' sins with the blood and make them qualified to enter His world. When the Olive Tree completes God's army, Jesus will return to earth. (Matthew 24:31) The purpose of Jesus returning to earth is to take those soldiers with him. Just like how John the Baptist prepared the way for when Jesus first came, the Olive Tree prepares the way for when Jesus returns to earth.