Other Facilities
From Eden Agricultural Products Center, built from the district office's request in 1992, to Youth Hostel for training the mind and body of the youth and Preschool for children, to hospital and other amenities were not built for profit, but for community development and convenience for its followers and local residents.

Eden Agricultural Products Center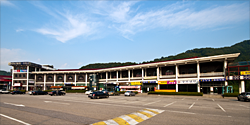 It started as a farmers' market in March, 1992. Agricultural products from around the country including grains, herbs, and wholesome foods and groceries, such as snacks, fruits, drinks, and necessities can be found in this 990m2 area. Cafeteria, Korean restaurant, Continental restaurant, and Chinese restaurant are located on the 1st floor, and a traditional Korean restaurant and café are located on the 2nd floor.
Sangcheon Training Center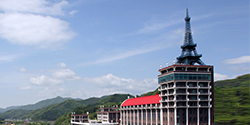 Completed in 1999, 73 rooms can accommodate 600 people. With a model Eiffel Tower at its top (easily be spotted from Seoul-Kyungki Route), the annex building has a convention hall for 1,200 and 6 seminar rooms with 300 seats, along with an indoor tennis court, outdoor futsal field, paintball field, and athletic facilities—encouraging mental development, nature experience, cultural experience, and perseverance training. Sangcheon Training Center was awarded the Best Youth Hostel in 2002, 2004, and 2005 by the Korean Youth Hostel Association
Sangcheon Eden Preschool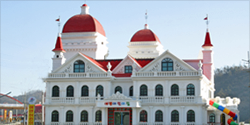 Sangcheon Eden Preschool started as a daycare center in the Seoul Church from 1996 to 2004, relocated to its current location in Sangchun in 2005, and was changed to a Preschool in 2008. Its exterior is reminiscent of a fairy-tale and serves as a castle of dreams for children. The language school affiliated with the Preschool teaches English from native speakers.
Sangcheon Eden Plaza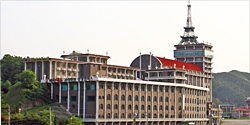 Sangcheon Eden Plaza is a 6-story building with hospitals, pharmacy, academies and other neighborhood facilities. Sangcheon Neurosurgery Hospital on the 1st floor serves as a health care provider for local residents.
Honeymoon Wedding Hall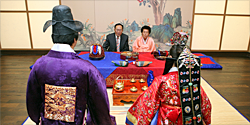 Photo studio and hairshop are also available.