Sports Facilities
Algok-seongjeon located about an hour away from Seoul also houses the country's best, large-scale sports facilities. Professional soccer leagues and youth national soccer teams train during the off-season, and the various sports facilities contribute to a healthier lifestyle for not only its believers/members, but also for local residents.

Sports Complex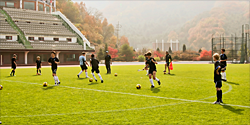 Sports Complex consists of the soccer field with natural grass and internationally standardized track field, and allow various soccer tournaments, track meets, and other events to be held. Every year, it hosts soccer tournamnts for the veteran's association drive, which celebrity soccer team participates in, and off-season training for foreign soccer teams, professional soccer teams, and the national youth team.
Baseball Park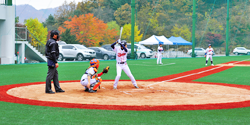 Baseball Park has a baseball field made of artificial turf and bleachers. The dugout area under the bleachers has shower rooms, referee's room, management office, record studio, weight room, VIP suites for baseball and box seats for soccer with a café in the middle.
The Golf Club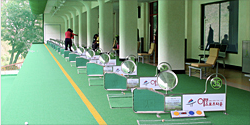 The Golf Club, a seven-story building, offers 94 hitting stalls with the latest facilities and is praised for its beautiful woods and fresh air. It also offers two screen golf areas on the 2nd floor, Pro Shop and lounge in the lobby, and golf academy for aspiring golfers.
Indoor Pool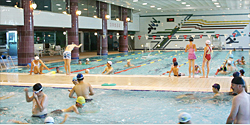 Indoor Pool offers a 25-meter, 6-lane pool and a children's pool. It uses natural groundwater from 100 meters underground in Sangcheon and a filtration system without chlorine disinfection so that users can enjoy the clean and fresh water.
Bowling Alley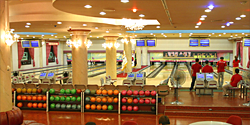 Bowling Alley offers 12 lanes, spacious lobby, 200 lockers, 70 bowls, and changing rooms to allow pleasant and comfortable experience. Individual and group lessons are offered, and the Pro Shop is open for users' convenience.
Indoor Gym
Indoor Gym can be used for volleyball, basketball, and tennis, and 600 bleachers, spread out between two floors, allow games and events to be held. The floor is built out of special urethane to minimize impact and injuries.
Indoor Tennis Court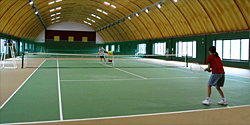 Indoor Tennis Court is equipped with the best deco top and international standard facilities. The floor is made of Deco Turf, which is also used for US Open Center Courts, and the 1200Lux lights shine the court. Because both sides have windows, the indoor tennis court offers a fresh experience.